About Us
---
Our Mission
" Supporting communities since 1961 with exceptional lawn and farm sales and service- sharing knowledge from our family to yours."
Lloyd Miller & Sons, Inc. is a family owned and operated business, serving the farming community in Shiawassee County and its surrounding areas. Lloyd and Alice Miller started the business in 1961, renting a small building on Main Street in Owosso, Michigan. Through hard work and cooperation by their three sons Don, Frank, and Bill, the business prospered and expanded. In 1963, they moved to the current location of 3695 E. M-21 in Corunna, Michigan.
Until 1969, Lloyd Miller & Sons, Inc. was strictly a Ford Tractor dealership. In 1969, we began selling New Holland and Woods Equipment. In 1975, we took on Kuhn-Krause and Steiger. In 1976, Lloyd Miller & Sons, Inc. opened our second store in downtown Fowlerville, Michigan next to I-69. This location was also successful until it sold in 2007.
Lloyd and Alice's only three grandsons followed in their footsteps and also became a part of the family business; Don Jr. in 1984, Doug in 1987, and John in 1998. From 1980 to 1998, Lloyd Miller & Sons, Inc. continued to grow the business by adding the equipment lines of Versatile, Great Plains, Land Pride, and Grasshopper. Today, the Miller family is dedicated to providing the best possible products and services to its current and future customers.
The most recently added brands to the product line are Husqvarna and Mahindra. The Husqvarna line includes handheld consumer products, walk behind consumer products, lawn and garden tractors, and residential and light commercial zero-turn mowers. The Mahindra line includes sub-compact, compact and utility tractors, attachments and implements.

We, here at Lloyd Miller & Sons, Inc. thank everyone for their past, current, and future business.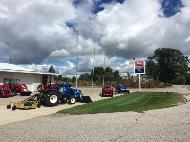 Lloyd Miller & Sons Inc. Tractor and Equipment Co.
3695 E. M-21 Corunna MI 48817
Phone: 989.743.4049